Our Club Pro Shop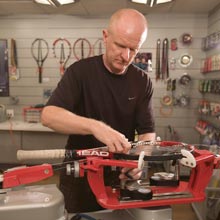 Through our joint venture with RPNY Tennis, CityView features a Pro Shop with stringing and customizing services as well as fashion forward sportswear. Founded by Roman Prokes, RPNY provides the highest level of customizing and stringing services for players of all levels. With over 20 years of experience in the tennis industry, Roman has customized racquets for many of the top tennis professionals including McEnroe, Agassi, Roddick, Sharapova and Capriati.
Roman Prokes
Roman Prokes has been in the racquet business for more than 25 years, stringing for the U.S. Open and almost every other major grand slam. Beginning as a tennis player, Roman found that his skills were more suitable to stringing his racquets than the game itself. Luckily for private clients like Andy Roddick and Maria Sharapova, that skill turned into a passion and the Czech-born master stringer travels the world customizing racquets. Outside of tournament time, Prokes, who owns the customization service company RPNY Tennis, can be found not only stringing racquets, but on court, evaluating players, making sure their equipment matches the specifics of their game.
On-Court Consultation
Not just for the professionals, Roman Prokes can be available (by appointment only) for an on-court consultation. Roman will team with a teaching professional, meet the player on court, and within an hour, have assessed the player?s game and diagnosed the perfect racquet. Due to Roman?s busy schedule, all consultations must be booked in advance.
To make arrangements, e-mail rpnytennis@aol.com.
For more information, visit www.rpnytennis.com.